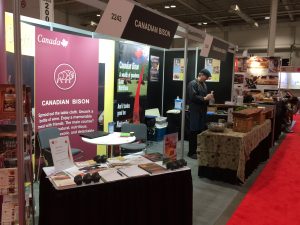 Well, what an event to be a part of! So many people from countries from every corner of the world! Canadian Rangeland Bison & Elk was a part of the Canadian Bison Association booth during the SIAL event which took place in Toronto, May 2nd to 4 th. SIAL is the largest food and beverage show in Canada, with over 850 national and international exhibitors from 50 countries, and sees over 15,000 visitors on a professional scale. With these attributes, it is no wonder that SIAL is the place to be to gain access to international markets, as well as increase the domestic range.

One of the biggest trends that we saw at this show was that the demand for bison is strong everywhere! Individuals/companies from Chile, Indonesia, China, Japan, France, Germany, just to name a few, are all looking to bring the product in. Of course, while this demand is fantastic to see and hear, this is also where the problem of supply comes in. Therefore, as producers, marketers, wholesalers, and retailers alike, we need to continue to work together to ensure the final user, the consumer, is keeping that demand alive.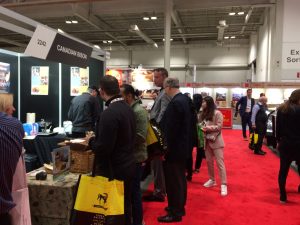 One of the other, perhaps somewhat surprising trends, we discovered, was that people really loved hearing about the production side of things; that is, the cow and calf operation. They wanted to hear all about how and where the animals were raised, what they ate, how they calved, how they were handled etc. People were just fascinated with the animal, and of course, everyone wanted a taste of the delicious tenderloin our on-site chef was serving up! Along with this, people were really impressed with the nutritional comparisons to other red meats, and were very surprised to hear how low in fat, cholesterol, and calories bison was.

Overall, a great experience to be a part of, and wonderful to make so many new contacts and see such demand for the meat. So lets continue to work together to keep everything going well and create sustainability for the industry. Until next time, stay bison strong. Thanks for reading. Until next time, stay bison strong.