Did you know that July is National Bison BBQ month? In our minds every month should be dedicated to this great animal!
In this issue of the Rangeland Producer we will not only highlight some of our new products to ensure that bison gets on more grills this summer, but also the perfect smoker to use to take your summer cooking to the next level.
Additionally, we are excited about a new program at Lakeland College that we encourage you can become a part of.
We hope you have a great start to your summer!
CRB
---
Special Feature
Big Dreams, Bright Futures 
At Canadian Rangeland, we are driven by our love for bison and our commitment to supporting local producers and their families. By remaining tied to our roots in nature, we have brought home-raised nourishment from local farms to tables across Canada for more than 20 years. We are proud of our history, and now we look forward to shaping the future of the Canadian bison industry through an innovative partnership with Lakeland College.
Announced last year, our owners Armin and Rita Mueller worked to establish the first post-secondary bison herd management program in Canada with a generous donation and a shared dream of a bright future for our industry. This unique program will mentor and shape the next generation of bison farmers.
When we dream, we dream big.
That's why we are proud to announce The Canadian Rangeland Bison Producers Big Dreams Award, a scholarship in partnership with Lakeland College that will benefit second-year students in the bison farming program.
"Starting this fall Lakeland College will launch its bison curriculum, providing students with a unique opportunity to learn about bison production. We can't wait to see what the future of this program holds and look forward to seeing the impact that The Canadian Rangeland Bison Producers Big Dreams Award will have," said Canadian Rangeland CEO, Dean Andres."This scholarship is about supporting and inspiring students who are interested in a career in the bison industry and is the first award of its kind at Lakeland," added Colleen Symes, Director of External Relations at Lakeland College. "Everyone who contributes to this award will be helping our students in so many ways."
"We've heard from students about the immediate impact of receiving an award – how it helps pay for rent and food and means less time working and more time studying. But just as valuable is the motivation gained when they are chosen as an award recipient. It boosts their confidence, reassures them that they are on the right path and inspires them to work even harder," said Symes.
Starting in the Fall of 2022, students will have the opportunity to win this exciting new scholarship. This is a unique opportunity to encourage more students to raise bison, but we need your help. We know we can go further together and ask that you consider giving to our scholarship fund. For every dollar you give, we will equally match your generosity – doubling our impact.
Our team at Rangeland thanks you for considering helping us to ensure the ongoing success of this one-of-a-kind program. We hope that by working together, we can spark an ongoing interest in the industry and build a future where new herds of bison roam the fields across the country.
If you are interested in helping us invest in the success of the next generation of bison producers, please consider donating by contacting Sheila by phone at 1-877-844-2231 or email at [email protected].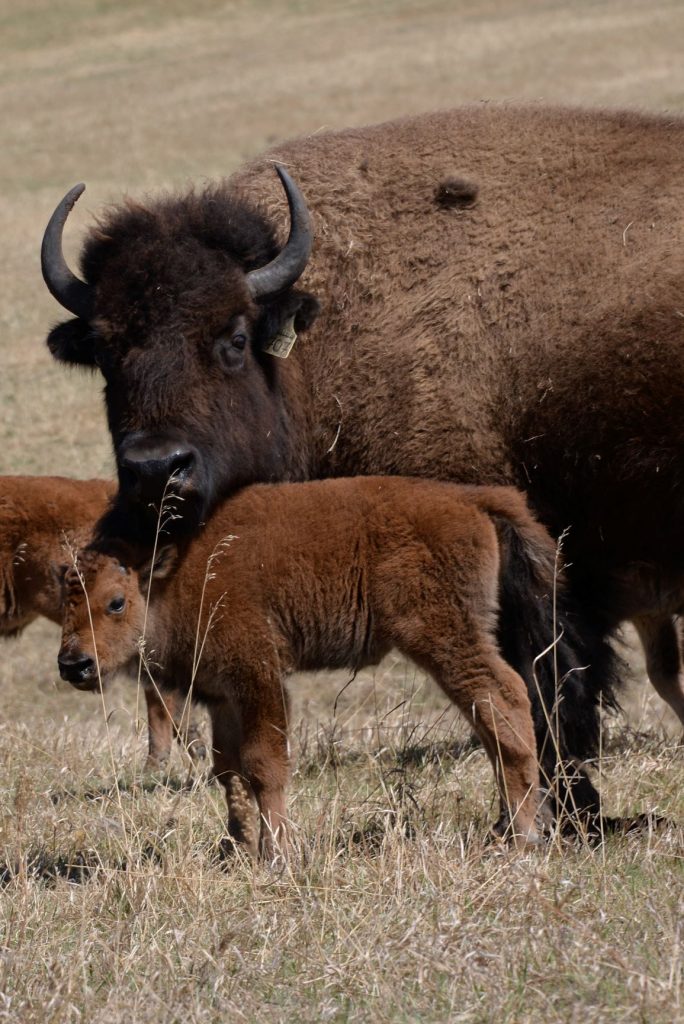 Thanks to Armin and Rita's generous donation, Lakeland College students now help to raise bison near the Vermilion campus. Photo Credit: Lakeland College.
---
Market Report
With markets and restaurants beginning to reopen June sales saw a steady increase, however,  we are still seeing a backlog of trim and various cuts.
Available online at www.rangelandsteaks.com our aged and portioned steak program is proving popular with effective direct-to-customer shipping. Boneless cuts are aged 40 days while bone-in cuts are aged 28 days then cut and flash frozen for superior quality.
All of our portioned steaks and many other value-added bison items like Maui ribs, burgers & hotdogs are available at the Rangeland Store at Lacombe, AB.  We sell various steaks ranging from a 4 oz bacon-wrapped tenderloin medallions to 8oz and 10oz ribeyes, Baseball cut sirloins and New Yorks to the ever-popular 16 oz Delmonico Ribeyes, 20oz T bones and the fast-selling Bison Tomahawks.
And an important reminder, we offer wholesale pricing to all Rangeland Producers.
Please inquire with Dean, Tara or Sheila if you are interested in getting your hands on these popular Rangeland products. Reach out to us at [email protected], [email protected], [email protected] OR call 1.877.844.2231 to set up an account.
---
Rangeland Premium Steak Highlights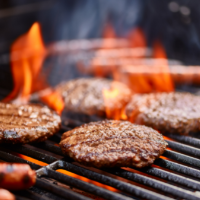 When we think of summer, most of us think of relaxing in the sun and not slaving away in the kitchen.  Outdoor cooking is where it's at and for many hamburgers and hotdogs are an easy summer option.  However, some products contain questionable ingredients, but Rangeland hotdogs and hamburgers are gluten-free and use only the highest quality ingredients to make these a step above the rest.
And so, in honour of this summer tradition, and to celebrate National Bison BBQ month Rangeland Premium Steaks is offering 10% off all hamburgers and hotdogs ordered online.
---
Rangeland Meat Shop Highlights
The Rangeland Meat Shop is a one stop shop for all of your BBQ needs this summer.  Not only do they have Premium Smoker's but they have everything you need to cook amazing meals as well.
As one of the only suppliers of Champ Chef Smokers in western Canada, Rangeland Meat Shop is thrilled to be able to offer you 2 incredible options.
Champ Chef Pursuit Portable Pellet Grille 20 – stainless steel
Champ Chef Smokepro – black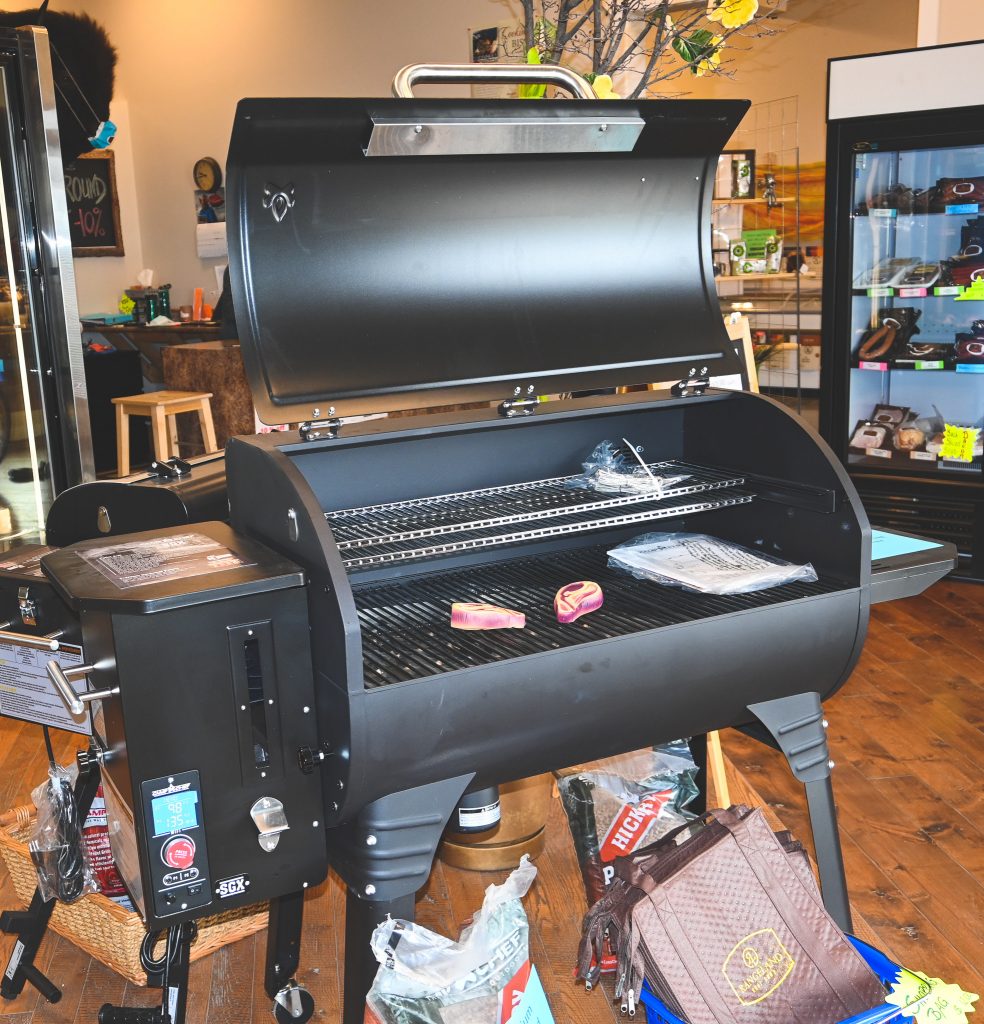 For every purchase we will give you a complementary 20lb bag of pellets (apple, hickory or mesquite)

For the month of July, Rangeland Meat Shop is offering 10% off all our Patties. Bison, Beef and Elk Bacon Burgers.
---
Rangeland Mobile Meat Shop Highlights

Not only do we continue to offer online and in-store options to purchase Rangeland products, but we also bring our products to you!
The Mobile Meat Shop kicks off July back in Calgary, fresh from a trip in Edmonton.July 1 – 17 in Calgary and the surrounding area
July 18 – 25 the van heads out to the Okanagan
July 26 – 31 we're back in Calgary before heading up to Edmonton in early August
The Mobile Meat Shop will also be at the Banff Farmers Market on Wednesdays July 7, 14 and 28.  The market is held in Central Park, just off Buffalo Street
While in Calgary come check out the Triwood farmers market on Tuesdays July 6, 13 and 27 at the Triwood Community Centre at  2244 Chicoutimi Dr NW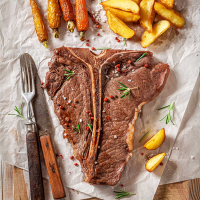 This month get 15% off a 30oz Bison Porterhouse Steak and 10% off any Bison Tomahawk Steak when you buy four of the following in any combination; 4-pack Bison Burgers, Bison Hot Dogs, Bison Sausage.
Get everything you need to get serious about grilling from the Rangeland Mobile Meatshop!
---
MeatChops Highlights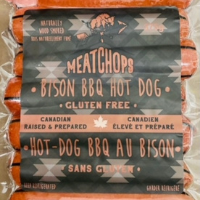 Summer is busy, and sometimes you need to grab and go.  Our bison bites are a perfect snack for the golf course or as an alternative to sunflower weeds at the ball game.
Additionally, we have our newest Bison Hot dogs available in over 20 retailers in Saskatchewan!  These premium hot dogs are gluten-free and made with only the best ingredients.  For those of you in Saskatchewan you can find our products at the following locations:
Saskatoon and Regina Co-ops
Select Save On Foods
Select Sobeys
SaskMade
Dad's Organic in Saskatoon and Regina
PitchFork Market
Local and Fresh
Body Fuel Organics
**Reach out to Chelsey at [email protected] for more locations
---
Recipe of the Month
Nothing screams summer more than a hot dog bar! Grab your buns and dogs and a whole lot of toppings. This is super fun and delicious!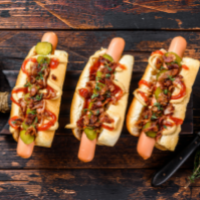 INGREDIENTS
Grilled hot dogs
Grilled brioche bunsTOPPINGS:
White cheddar cheese
Caramelized onions
Grilled corn
Pickled green beans
Diced shallot
Grilled pineapple
Baked beans
Crumbled gorgonzola, parmesan or old cheddar
Scallions
Chives
Pickle spears
Bacon pieces
Tomato
Shredded lettuce
Jalapeno peppers
CONDIMENTS:
Ketchup
Yellow mustard
Spicy brown mustard
Ranch dressing
Buffalo wing sauce
BBQ sauce
Relish
INSTRUCTIONS 
To make the hot dog bar an easy process, you can chop, cut and grate all of them the night before, place them in separate bowls or jars, then cover and store them in the fridge until it's go-time!
For cookouts, it is best to estimate about 1.5 hot dogs per person. For toppings, they will differ depending on what's popular in your crew, but a good rule of thumb is one cup of each topping, but maybe a bit more of some (cheese, bacon pieces)
BBQ or smoke the Bison hot dogs, toast the buns and have fun!!
---
If you have any suggestions, send them our way.  We appreciate all of the retail and food service leads that producers ask us to follow up on.
We will have many more exciting announcements to make in the months ahead so stay tuned.