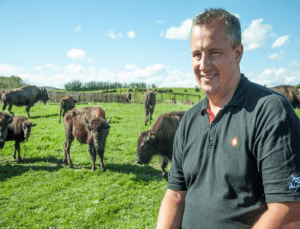 Visitors worldwide spend time on the farm.

Guests worldwide have had the opportunity to spend time at our farm this summer. September 2016 was a busy month as we hosted guests from both Switzerland and Poland on two separate occasions. On both occasions, guests arrived at the home of Steven and Michelle Lunty, where they lined up to load themselves into the back of pickup trucks to be escorted to pastures rich with bison. Beaming with anticipation, guests seated themselves on hay bales as they were about to get up close and personal with the bison. For many, this was the first time they have ever seen a bison in their life. They spent at least an hour out in the field, talking a little about the history of the bison, as well as how bison are cared for out on the range. Both tours concluded at the main house, where the guests lounged out on the deck while enjoying the sunshine and the view, as they were treated to a bison burger BBQ, complete with all the fixings. "It was a very relaxing and enjoyable time for everyone, and then Steven and I were treated to some Polish vodka and chocolate upon their departure. The group got to leave with full tummies and a Rangeland bison squishy!" said Michelle Lunty about our Poland visitors.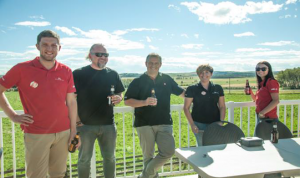 Our guests from Switzerland were not only treated to a day on the farm, yet as well enjoyed an evening out with the whole team from Canadian Rangeland. In the beautiful atmosphere of Leto's Restaurant, in Lacombe, Alberta, we all enjoyed a beautiful four-course meal which included elk-stuffed mushroom caps, Alberta Saskatoon berry cheesecake and, of course, the main feature was Rangeland bison prime rib – mouth-watering!

Thanks for reading. Until next time, stay bison strong.

To stay up-to-date with what is happening at Canadian Rangeland, follow us on Twitter or Facebook, or visit our website at www.rangelandbison.ca; phone 1-877-844-2231; email [email protected].