Good day to all from the team here at Canadian Rangeland Bison & Elk. For today's blog, we thought we would do a quick recap of our time at the Canadian Bison Association Convention held November 21-24 in Regina, SK.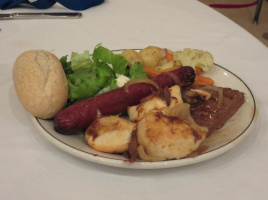 The convention always provides a great time for socializing and networking, and the CRL team members that were able to attend this year's convention enjoyed meeting with both old, as well as some new, faces. The lineup of speakers for this year's convention provided all those in attendance with some great information, as well as a look at some tools and equipment that carry future potential in handling and managing bison. One of the highlights for CRL included listening to Roland Kroos talk about proper field management, but even more than that, discuss the passion and balanced lifestyle that he feels are also key components to running a successful operation. Dr. Jayson Galbraith also gave an informative talk on the potential of weighing and even sorting bison from the comfort of one's own living room! And along those same lines, who could forget Dr. John Church's presentation on 'managing bison from above'…with the use of drones! The future of bison farming in Canada may be looking even more hands off than it already is!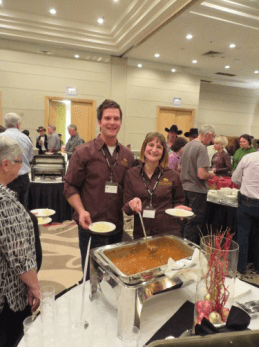 Canadian Rangeland was proud to be a Platinum Sponsor of this event and donated bison meat used for convention lunches and dinners. For Saturday's lunch, those in attendance received CRL smokies and burgers, which always prove to be a fan favorite. For Saturday's dinner, CRL unveiled a brand new product, bison stroganoff, which received a great deal of positive feedback. Hopefully, this product will be available for purchase soon! Finally, for Sunday's banquet, guests were treated to three different bison meat options as a part of a delectable buffet dinner. The three bison dishes were bison curry, bison wellington, and of course, a buffet would not be complete without a prime bison roast.

After Saturday's wrap-up of speakers, CRL was given the opportunity to do just one last presentation for the day. Even though the day's scheduled talks were over, people stuck around to listen to what we had to say (the open bar put on by CRL during the presentation may have helped a little bit as well!). One of the points that CRL emphasized during the presentation, and will continue to emphasize on a regular basis, is the importance of looking long-term and creating sustainability in the Canadian bison industry. Nobody truly knows what the future will bring, but it is our hope that all producers take some more time to think, not only about how quickly economic situations can change, but also about how producer choices affect the welfare of their animals. Anyways, that is all for today's blog; hopefully presented some food for thought.

Thanks for reading. Until next time, stay bison strong.

To stay up to date with what is happening at Canadian Rangeland, follow us on Twitter or Facebook, or visit our website at www.rangelandbison.ca, phone 1-877-844-2231; or email [email protected].