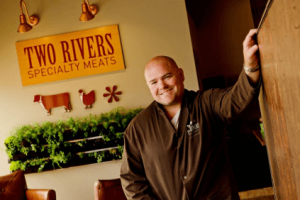 For this edition of Notes from This Marketer's Pen, we would like to feature another Customer Spotlight. Today's spotlight is on Canadian Rangeland's partnership with Two Rivers Specialty Meats based out of North Vancouver, BC. With this spotlight, we want to emphasize the value we place on building relationships with customers such as Two Rivers, as well as the importance of supporting this market for continued growth, strength, and stability.

Two Rivers is a supplier of a wide range of fine local meats free of antibiotics, hormones, and additives, with the goal of strengthening the connection between producers and consumers. Two Rivers believes strongly in fostering the understanding of where food comes from, and just as importantly, how it was produced. What started as an idea for newlyweds Margot and Jason Pleym to start a wholesale meat company focusing on values they believed in, has now expanded to represent twenty committed farms, ranches, producers, and families who share their values and goals. While the growth of Two Rivers has been impressive, the connection between the country where their product is raised and the city where the product is distributed has never been weakened. Canadian Rangeland is proud to say that we have been partners with Two Rivers since their inception back in 2007, sharing in their values and commitment to superior products that are ethically and sustainably raised.

Canadian Rangeland has enjoyed working with and supporting Two Rivers as they continue to do great work in building upon awareness for absolutely delicious, top quality, 100% Canadian bison and elk products. We at Canadian Rangeland would like to emphasize the value of long time, key customers like Two Rivers and thank you for your continued partnership!

Thanks for reading. Until next time, stay bison strong.

To stay up to date with what is happening at Canadian Rangeland, follow us on Twitter or Facebook, or visit our website at www.rangelandbison.ca, phone 1-877-844-2231; or email [email protected].

For more information on Two Rivers Specialty Meats, please visit their website at www.tworiversmeats.ca.