Hello all and thanks for joining in for another piece from This Marketer's Pen. Today, we would like to make mention of one of the many companies we work with and rely on to get the job done and move product from point A to point B.

P & D Logistics Ltd. is an asset based trucking company based out of Strathmore, AB, that has been providing truck service for over a quarter of a century. The company provides a range of services, including full truckload freight, less than truckload, household moves, and special care items. Originally starting in the early 1970's in the grain belt of Alberta, the company now focuses on providing transportation in the long haul refrigerated and dry industries across the US border. The company is large enough to look after customers, but also small enough to keep customer needs a priority and quickly alter shipping and receiving tactics as required.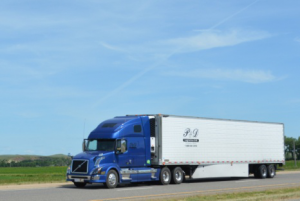 One of the features of P & D Logistics Ltd. that Canadian Rangeland appreciates is that all trucks are satellite equipped, which allows for monitoring, routing, and dispatching. This provides P & D Logistics with the ability to dispatch any last second instructions or needed changes as required by customers. Ultimately, this feature promotes attention to detail, a characteristic that Canadian Rangeland and P & D Logistics are very much in synch with each other on: pay attention to details and get it done right every time. As stated by a company representative: "We understand what it takes to do the job right the first time and meet or exceed our customer needs. We work well with companies that share this attitude."

Canadian Rangeland appreciates working with companies such as P & D Logistics, as this assists us in fulfilling one of our fundamental goals: customer satisfaction.

Thanks for reading. Until next time, stay bison strong.

To stay up to date with what is happening at Canadian Rangeland, follow us on Twitter or Facebook, or visit our website at www.rangelandbison.ca, phone 1-877-844-2231; or email [email protected].