Good day to all and thanks for tuning in to another article. In today's story, we will be doing a Customer Spotlight, a feature topic that we will work to make a recurring part of this blog. In the Customer Spotlight, we hope to share with everyone what the retailers see from the eyes of their customers, and how as marketers and producers, we can best support this market for growth, strength, and stability for years to come. Our first two customers we would like to showcase are Roaming Alberta Meats and Rangeland Meat Shop.


Roaming Alberta Meats (RAM) was started by Meaghan Riopel, entrepreneur and MBA/CMA graduate, who had a personal desire to connect with farmers and understand exactly where the meat on her table was coming from. RAM has enjoyed bringing locally produced bison and elk to Calgary and Central AB markets for the past 2 years, with the bulk of RAM's bison retail experience comes from the Symons Valley Ranch Farmers Market. RAM also attends local area Farmers Markets during the summer months and several trade shows over the winter. As stated by RAM business owner, Joan Hines:

RAM very much appreciates working with Canadian Rangeland Bison & Elk. We find that many of our customers are aware of the nutritional benefits in eating bison and elk and want to know the origin of their food. Local, ethical, sustainable, and delicious describes what we strive to bring to our customers, and that is what keeps them coming back for more!

Our second feature customer, Rangeland Meat Shop (RMS), is a brand new retailer based out of Lacombe, AB! In fact, they just had their grand opening Friday August 7th, providing those in attendance with a scrumptious BBQ and the chance to win some meat goodie baskets. RMS's focus is built around providing consumers with a more natural choice in meat products. RMS works with local producers and processors, featuring bison and elk raised without the use of hormones or antibiotics, as well as free run chicken and naturally raised beef and pork. Jakob Jud, who directs the day to day of RMS and brings over 25 years experience in the meat industry, had this to say: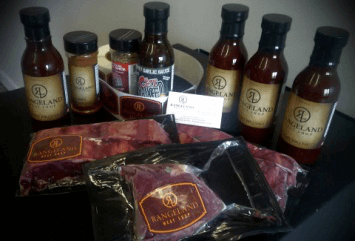 Over the years, my relationship to the trade evolved from work to passion; passion for the industry and for a healthy product. No hormones, no antibiotics; just great taste! I am absolutely thrilled to have the opportunity to be a part of Rangeland Meat Shop, and want to encourage and welcome everyone to stop in!

Canadian Rangeland Bison & Elk appreciates customer support and dedication such as the two aforementioned, and we wish both of these businesses continued success!

Thanks for reading. Until next time, stay bison strong.

To stay up to date with what is happening at Canadian Rangeland, follow us on Twitter or Facebook, or visit our website at www.rangelandbison.ca, phone 1-877-844-2231; or email [email protected]

For more information on Roaming Alberta Meats, visit their website at www.roamingabmeats.com.
For more information on Rangeland Meat Shop, follow them on Facebook at Rangeland Meat Shop.