Good day to all! In this piece of the Marketer's Pen, we will be featuring Localize; an Edmonton based business Canadian Rangeland Bison & Elk is pleased to be in partnership with. Localize works diligently with food producers, as well as grocers, to answer the question that many Canadians already have, and many more are beginning to want to know. This question: "Where does our food come from?" is answered by collecting facts regarding the who, what, where, and how behind the foods Canadians buy. This information is then made accessible to shoppers via easy to identify labels. These Localize labels provide the customer with information about the product's origin, as well as highlight a 'local' score between 0 and 10 based on the following four categories: location of ownership, location of production/processing, origin of ingredients, and overall sustainability. Furthermore, tech savvy shoppers can use their Smartphone's to scan the quick response code on a label to gather additional details on that product. Independently owned businesses tend to land the highest scores in the rating system, as the ability to celebrate and promote smaller, more regional companies that have made their way into large grocery stores is paramount in Localizes' mandate.

Canadian Rangeland Bison & Elk was one of the first 200 producers to support the Localize initiative by registering products with Localize in 2013, the same year that Localize labels first appeared on shelves of 24 Co-op stores throughout Calgary, Strathmore, Airdrie, and High River. Ashley Cattell, Community Manager of Localize, stated: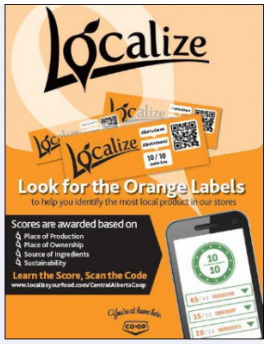 The ability of the Localize program to meet its mandate and provide information to shoppers about local and regional foods is dependent on food producers like Canadian Rangeland Bison & Elk. CRL has committed to being transparent about their production, the origin of their ingredients, and their ownership structure, making them a great fit for the program.

In that first year, 2013, over 400 products hailing from AB, BC, Sask, and Man. were highlighted. Today, only two years later, there are close to 10,000 registered Localize products and more than 300 grocery stores throughout Western Canada subscribed to the program, with an Eastern Canada office now open and preliminary expansion into the USA underway.

Canadian Rangeland is a proud supporter of the Localize movement and helping customers understand the importance of knowing where their food comes from!

Thanks for reading. Until next time, stay bison strong.

To stay up to date with what is happening at Canadian Rangeland, follow us on Twitter or Facebook, or visit our website at www.rangelandbison.ca, phone 1-877-844-2231; or email [email protected].

To learn more about Localize, please visit www.localizeyourfood.com.