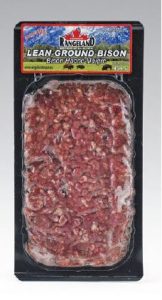 At Canadian Rangeland Bison & Elk our primary emphasis is placed on the welfare of the animals. Short trucking distances and local production, minimizes the stress experienced by the animals and ultimately increases the quality of the meat products that we offer. Western Canada is widely recognized as one of the best places to raise livestock. Our vast landscapes, abundance of natural resources and industry leading production practices makes us a sought after supplier for premium, locally-raised products. Our food service and retail partners value both quality and transparency, which we carry forward into the Bison & Elk products we supply to those markets. We have responded to the demands of the consumers who are looking for healthy alternatives in red meat by creating new options that they can feel confident taking home to their families. For over two years, Canadian Rangeland Ground Bison & Elk (including a small number of value added products: i.e Burgers, Stirfry, Ribeye Steaks) have been available in the frozen food sections of Co-Op Grocery stores throughout the western provinces including independents that have access to the distribution lines supported through Federated Cooperative Limited. www.coopconnection.ca.

Every year we have seen a continual decline in the number of animals being harvested for meat sales within Canada. We have the capacity and the infrastructure to strengthen and further develop the markets domestically, and hope with the support of producers to reverse that trend. Through continual heard growth, long term stable markets can be maintained here at home through meat marketing, which will ultimately attract increased investment and capital to the industry.

Working closely with producer partners we strive to continually assess and improve the standards of how animals are raised and produced! We share the common values and goals of the Canadian Bison industry, which increases the value for bison, raised and processed in Canada ultimately supporting our local bison ranchers, processors and retailers.

Thanks for reading. Until next time, stay bison strong.

To stay up to date with what is happening at Canadian Rangeland, follow us on Twitter or Facebook, or visit our website at www.rangelandbison.ca phone 1-877-844-2231; or email [email protected].