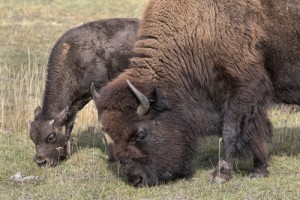 Good day to all and happy fall greetings from the team here at Canadian Rangeland Bison & Elk. For today's blog, we thought we would do something a little different and set it up 'interview style' with one of our team members, Christoph Weder. Christoph just recently travelled overseas to visit and network with our overseas markets, primarily in Switzerland. Upon his return, the rest of us wanted to hear about his experience, and here is a shortened version of what he had to say.


Question: What did you experience in regards to the bison markets in Switzerland?
Christoph: In general, the bison meat market is doing very well in Switzerland, as bison meat is in high demand. However, it is not just any bison meat the consumer wants; rather, it is meat that has been produced to the highest quality standards.

Question: What was some of the customer feedback in regards to working with Canadian Rangeland?
Christoph: Coop Corporate, for one, had very good things to say. As the second largest retail group in Switzerland, Coop prides themselves on their emphasis on animal welfare and high standards. Coop buys exclusively from Canadian Rangeland due to the fact that both companies have such likeness in principles and values.

Question: In having visited our overseas markets, what do you project for the future?
Christoph: It is evident that the trend for many consumers is to be able to trace their meat right down to knowing where, and of course how, the animal was raised. Producers and marketers need to ensure we continue to raise our bison naturally, have short transportation distances. and keep the bison calves on the farm for as long as possible.

Question: You are headed overseas again in October to the Anuga Trade Show in Germany. What do you feel this show will bring for you, as well as perhaps Canadian Rangeland?
Christoph: As the world's leading food fair for the food service, retail, and catering market, it is a fantastic place to network, as well as to learn. It is always great to see what other people and other companies are doing in terms of marketing, selling, and even rebranding. Ultimately, for myself, it is where I learned pretty well everything about marketing meats and other products. I am really looking forward to this years' show and bringing new ideas back home!

We want to wish both Christoph, as well as Armin Mueller a safe journey and lots of learning!

Thanks for reading. Until next time, stay bison strong.

To stay up to date with what is happening at Canadian Rangeland, follow us on Twitter or Facebook, or visit our website at www.rangelandbison.ca, phone 1-877-844-2231; or email [email protected].

To learn more about the Anuga Trade Show, please visit www.anuga.com.