What a wonderful event that members of the Rangeland Team were privy to take in September 25, 2017 in beautiful Victoria, BC. Brewery & the Beast is a culinary experience that features highest quality meats via an exceptional line up of restaurants and chefs. By featuring local farms and producers, Brewery & the Beast educates consumers on where their food comes from and how it is produced. A primary goal of the event, Brewery & the Beast works to: "keep our local and regional food systems thriving while continually supporting the local restaurant and food & beverage industry" (www.breweryandthebeast.com). As this goal is so in line with Canadian Rangeland's own, it is no surprise that we have been a sponsor of Brewery & the Beast from its inception, in 2012, and this year was no different. We were happy to see our product on display in so many wonderful ways, and the taste was absolutely amazing!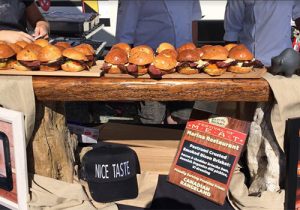 The first stop we made was at the Two Rivers Specialty Meats booth, who have been one of the primary sponsors of the entire event. Here we got to indulge in delectable Canadian Rangeland elk sausage. We were glad to have visited this booth first, as their lineup was huge the entire event! They have clearly made a name for themselves! After Two Rivers, we made a beeline for Marina Restaurant for some tasty Pastrami Crusted Smoked Bison Brisket (check out who's sniffing out the grub in the top right corner). You know what goes well with a tasty pastrami crusted slider? A Philips Brewery beer!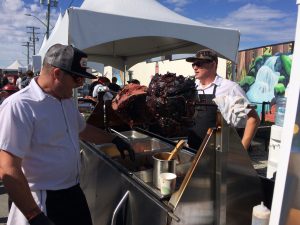 From there, it was on to a wonderful display of Slow Roasted & Smoked Bison Hip from Vista 18 Bar & Grill. If you think it looked good on the spit, it was nothing compared to the taste! And the final restaurant proudly featuring Canadian Rangeland Bison was Veneto Tapa Lounge with a Black Bean & Chorizo Chili with Braised Bison Short Rib. With a mouthful of a title like that, it should be no surprise that the dish was a delightful mouthful as well!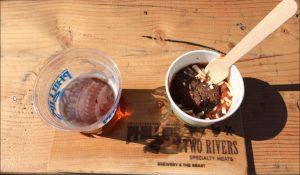 Of course, the event featured numerous other protein sources, from which we had our fair share of, such as pork, beef, chicken, and even some oysters and octopus. And while everything we tried was truly tasty, the bison and elk booths were definitely our favorites!




We were thrilled to be a part of this event for yet another year, to discover new and exciting dishes, and to help keep our local and regional food industry thriving! Thanks to Brewery & The Beast for such a wonderful time!

Thanks for reading. Until next time, stay bison strong.

To stay up to date with what is happening at Canadian Rangeland, follow us on Twitter or Facebook, or visit our website at www.rangelandbison.ca phone 1-877-844-2231; or email info@rangelandbison.ca.