Canadian Rangeland Bison is thrilled to announce that starting in July they will be partnering with HelloFresh, the online home delivery service committed to offering fresh, nutritious meals that are delivered fresh and ready to be prepared at home.

As we are all aware, the pandemic has drastically curtailed the dining out experience with the closure or take-out only options at many restaurants. This has led to an increased acceptance of fresh, home delivery food services, and thus, HelloFresh has seen exponential growth in the last 12-15 months.  

In an attempt to continue to offer new and exciting products for their growing customer base, the addition of bison to the menu was exactly what they were looking for. 

Their support of the concept, Sustainable by Nature, could be a perfect tagline for bison producers everywhere. HelloFresh orders ingredients directly from producers so that the grocery kits are delivered fresh, without multiple stops in various retail warehouses, to guarantee the best tasting product on the market.
The spokesperson for Hello Fresh, Michael Mardini, states that the first bison menu will be shipped to customers between June 26 – July 1st for the Week 26 menu.  Following that Bison will be featured approximately every other week for the span of Q3. 

Mardini goes on to say "that bison is a perfect fit for our program at HelloFresh and really speaks to our overall sourcing philosophy. We love to showcase high-quality Canadian ingredients, particularly in the protein category. I'm excited to be able to offer so many Canadians the chance to try bison, which I think is fair to say they may not have tried otherwise."

HelloFresh is also working towards producing a more carbon-neutral meal kit, aiming to be the first of its kind, and so by supporting the bison industry they are supporting regenerative farming practices and giving back to the environment.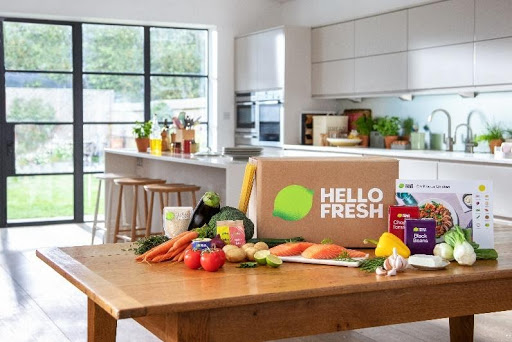 Dr. Wendy Davis ND, Naturopathic Doctor, promotes bison to many of her patients due to its excellent nutrient profile and the fact it is a very clean, hormone-free meat option.  Having used HelloFresh herself Davis appreciates how easy the kits are to use and the excellent ingredient selection.
Canadian Rangeland CEO Dean Andres added the collaboration between Canadian Rangeland Bison and HelloFresh is an exciting one as it will give extensive exposure to bison in a significant and growing market.

Starting in late June you can order bison to be delivered to you fresh and ready to prepare.
Herb Crusted Bison Bu
rger
with Chunky Steak Fries
It's time to celebrate Canadian-raised bison – packed full of flavour and extra lean for delicious burgers. The rosemary and thyme crust boosts the earthy goodness, while creamy gooey cheddar cascades down the patty. And you can't have a burger without chunky steak cut fries!