At Canadian Rangeland Bison & Elk our primary emphasis is placed on the welfare of the animals. Short trucking distances and local production, minimizes the stress experienced by the animals and ultimately increases the quality of the meat products that we offer. Western Canada is widely recognized as one of the best places to raise livestock. Our vast landscapes, abundance of natural resources and industry leading production practices makes us a sought after supplier for premium, locally-raised products. Our food service and retail partners value both quality and transparency, which we carry forward into the Elk products we supply to those markets. We have responded to the demands of the consumers who are looking for healthy alternatives in red meat by creating new options that they can feel confident taking home to their families. For over two years, Canadian Rangeland ground elk has been available in the frozen food sections of Co-Op Grocery stores throughout the western provinces including independents that have access to the distribution lines supported through Federated Co-operative Limited. www.coopconnection.ca.

Lower numbers of market ready animals combined with animals that are being offered at lower then optimal weight has a significant impact on the domestic markets that we have heavily invested in. Where the supply is uncertain, retailers and wholesalers who are currently pressuring us to provide more options, could look at the elk meat industry as unstable. This instability could lead to a decrease in the number of retailers carrying the product and ultimately a complete delisting of elk products.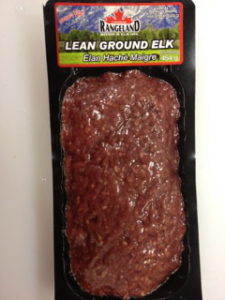 Every year we have seen a continual decline in the number of elk being harvested for meat sales within Canada. We at Canadian Rangeland would like to change that. We have the capacity and the infrastructure to strengthen and further develop the elk meat market domestically, and hope with the support of producers to reverse that trend.

Elk meat marketing options for Canadian producers is important and will strengthen profit margins through diversification. In terms of growing the herd, long term stable markets which can be found through meat marketing, will attract investment and capital to the industry.

Canadian Rangeland recognizes and appreciates that elk meat marketing is complex and we are committed as a company to work with the elk industry, organizations and government to support and strengthen the awareness and appreciation of elk meat produced and processed in Canada. Working closely with producer partners we strive to continually assess and improve the standards of how animals are raised and produced. To read more about our programs visit us at: www.rangelandbison.ca or contact: 1-403-786-9900 or email [email protected].